ThinkingBunny
1.1
Thinking Bunny is an original cute puzzle game by int13.
Last update
20 Mar. 2006
Licence
Free to try |

$7.95
OS Support
Mobile
Downloads
Total: 174 | Last week: 0
Ranking
#258 in Games
Publisher
Int13 Production
ThinkingBunny Publisher's Description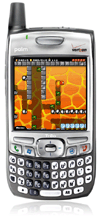 New! V1.1 square screen compatible
If you have a Palm Treo 700w or an HP iPaq hw6515,
you don't need to download a specific version of our Deluxe Arcade Pack for Windows Mobile Pocket PC.
Thinking Bunny by int13 production

A brain teaser if ever there was one, push your players around and help them navigate to the next level.

The later levels are Mind boggling!

Includes quick start trainer and hints to help you ...

Screenshots






Features



Cute and colorful pixel artwork inspired by japanese "kawaii" games
Light and entertaining soundtrack
Unlimited undo system
More than 50 levels with increasing difficulty
Include 50 bonus levels of classic Sokoban
Automatic save of the current game
Can be resumed exactly where leaved
Lightweight (About 1MB of storage)








Other products :



More infos at : http://int13.net
Look for Similar Items by Category
Feedback